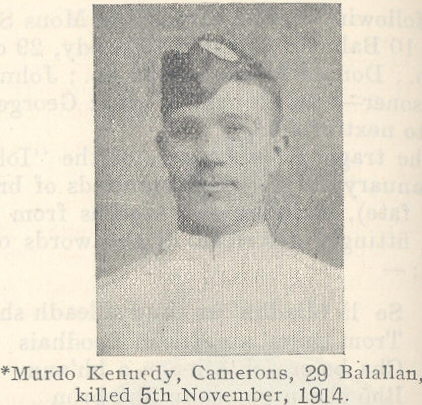 Private MURDO KENNEDY
Last address in Lewis: 29 Balallan,
Son of Malcolm and Helen Kennedy
Husband of Isabella Currie of Calder
Service unit: 1st Cameron Highlanders
Service number: 6863
Enlisted at Glasgow
Date of birth: 4 December 1882
Date of death: 5 November 1914 at the age of 33
Killed in action in France
Memorial: Ypres (Menin Gate) Memorial, Panel 38 and 40
Local memorial: Kinloch, Laxay
Was employed with Pumpherston Oil Co (Mid Calder) when called up.
Left a widow and three children.
Murdo was one of the children of Malcolm (1845) and Helen (1851), the others being Ann (1877), Donald (1875), Effie (1889, died aged 10 months), Effie (1892), Kenneth (1880) and Malcolm (1885).
His brother Donald served with the Royal Garrison Artillery and survived, having served throughout the war.